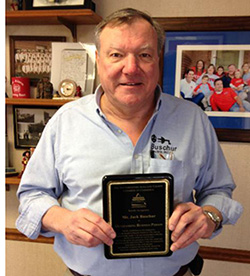 Jack Buschur named "Outstanding Business Person"
Congratulations to Mr. Jack Buschur, who earlier this week, was named "Outstanding Business Person" by the Southwestern Auglaize County Chamber of Commerce!
The award states, "For his contributions to our communities. As the founder of Buschur Electric in 1978, Jack has employed many people in the area and provided world-class service to his clients for over 35 years. Jack has also given very generously of his time, talents, and resources over the years in an effort to make our communities better places to live, work, and play. Jack Buschur is a person who has literally changed the face of our communities through his good works."
Fun Facts
Electricity travels at the speed of light more than 186,000 miles/second!
If you had a light bulb on the moon connected to a switch in your bedroom, it would take only 1.26 seconds for that bulb to light up, 238,857 miles away.
If you traveled as fast as electricity, (about 300,000 kilometers = 186,411.358 miles per second the speed of light), you could go around the world 8 times in the time it takes to turn on a light switch.
A spark of static electricity can measure up to 3,000 volts.
According to the U.S. Energy Information Administration, electricity consumption will increase by 51 percent from 2002 to 2025.
The size of a typical American home has increased from 1100 to 1800 square feet over the past ten years.
Call Buschur Electric today at 1-800-BUSCHUR!
---
Buschur Electric's outstanding reputation for quality service lies in the strength and capabilities of our highly trained and certified staff of design and installation experts. We work closely with our customers to establish customized solutions for your specific needs and are available 24-hours a day, 7 days. Call 800.287.2487 to set up an appointment today! We look forward to working with you!
---
Published by Chris Steinke
Ph: 419.628.3407 - Cell: 937.638.1738 - chriss@buschurelectric.com