Calculate Energy Loss in Dollars with a Power Quality Analysis from Buschur Electric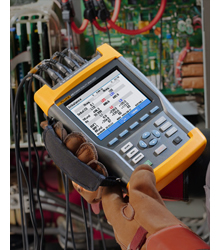 Buschur Electric strives to stay on the cutting edge of technology. We do this in many ways, such as investing in the latest technology available. We have recently invested in the Fluke 434-II Energy Analyzer. This is a great tool that will help Buschur Electric provide the best possible service for our customers.
Fluke 434 II Energy Analyzer
The Fluke 434 II Energy Analyzer is the ideal tool for energy logging. Utilizing the new Energy Loss Calculator function, the 434 II measures the fiscal cost of energy wasted due to poor power quality. This energy monetization capability allows you to identify the most energy-wasteful areas of your facility so you can determine potential energy saving solutions. Add basic power quality measurements to the package and you're got yourself one powerful troubleshooting tool.
Applications
Energy Monetization
Calculate the fiscal cost of energy waste due to poor power quality.
Energy Assessment
Quantify the before and after installation improvements in energy consumption to justify energy saving devices.
Frontline Troubleshooting
Quickly diagnose problems on-screen to get your operation back online.
Predictive Maintenance
Detect and prevent power quality issues before they cause downtime.
Long-Term Analysis
Uncover hard-to-find or intermittent issues.
Load Studies
Verify electrical system capacity before adding loads.
A Power Quality Analysis from Buschur Electric will be conducted by trained and experienced service personnel who can help you isolate the problem and find the appropriate solution.
Call us today at 1-800-BUSCHUR to schedule an appointment!
---
Buschur Electric's outstanding reputation for quality service lies in the strength and capabilities of our highly trained and certified staff of design and installation experts. We work closely with our customers to establish customized solutions for your specific needs and are available 24-hours a day, 7 days. Call 800.287.2487 to set up an appointment today! We look forward to working with you!
---
Published by Chris Steinke
Ph: 419.628.3407 - Cell: 937.638.1738 - chriss@buschurelectric.com