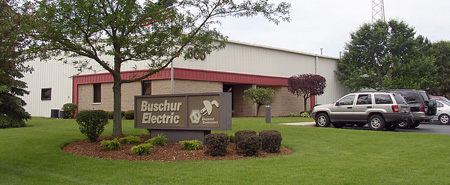 Buschur Electric, Inc. was established in 1978 in Minster, Ohio. We are a full service electrical contractor providing design, construction and installation services to the commercial, industrial, institutional, residential and farm markets.
The company acquired new ownership in 2017 as Jack Buschur sold the company to Chris Goubeaux. Chris began with the company as an apprentice and worked as a journeyman electrician for many years before taking an estimator/project manager position. Chris is now the owner and President and Jack has retired.
Our outstanding reputation for quality service lies in the strength and capabilities of our highly trained and certified staff of design and installation experts. We work closely with our customers to establish customized solutions for your specific needs and are available 24-hours a day, 7 days a week.
Furthermore, Buschur Electric is dedicated to implementing new services and continuing education to stay on the cutting edge of today's progressively advancing technological world.
You can count on Buschur Electric to be there when you need us with the right tools, competencies, and installation capabilities to meet your needs.
Buschur Electric Mission Statement:
To deliver quality, value and innovation in power distribution and electrical design, construction and service to our customers.
To develop a workforce that is skilled, creative and proactive by providing a safe and secure working environment, competitive pay and benefits, advanced technical training and job satisfaction to our employees.
To maintain profitability to allow the company to grow, protect its assets, provide stability and security for its employees and provide benefits to the community.