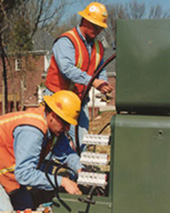 Quality people, quality service, quality installations...
You can count on Buschur Electric to be there when you need us with the right tools, competencies, and installation capabilities to meet your electrical needs.
We operate on your schedule by providing service and installation that is convenient to your needs, 24-hours a day, 7 days a week.
Once your system is in place, Buschur Electric can maintain it throughout its life to assure full compliance with all warranty requirements. Buschur Electric is there when you need us right from the start for a system that lasts.
We guarantee your complete satisfaction.
Call Buschur Electric at 800.287.2487 for all your service and installation needs.